Honored Elder- Sam Munoz 
Sierra Native Alliance honors the passing of Elder Advisor, Sam Munoz (Luiseno). Sam was well loved by family and many in our community. He is known for his horsemanship and for artisan work with his walking sticks and beadwork. Sam generously shared his wisdom, teachings, and bright spirit during his many years of service as a member of the Board of Directors.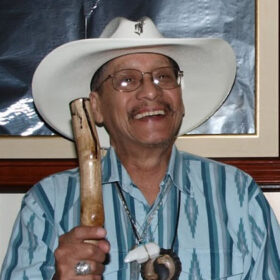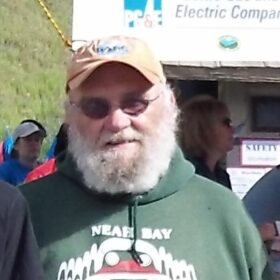 Roger Groghan: Chairperson
Roger is a naturalist who is active in the preservation of the Sierra Nevada Foothills, volunteering with environmental groups such as Protect American Reiver Canyons (PARC) and is a State Park Canyon Keeper. Roger is also a docent for the Placer Nature Center where he shares his knowledge of local flora and fauna with children and adults.
Dr. Emma Blackthorne- Vice Chairperson
Emma is a citizen of the Ojibwe Nation from the Bad River Band of Chippewa. Emma describes herself as a social justice warrior, works to promote diversity, equity and inclusion in education. Emma is the Sr. Dean of Research and Planning at Contra Costa Community College District and served as the Director of the North Central Adult Education Consortium where she created programs to provide life and business skills training across five counties in northern California.
Lori Woods- Board Secretary
Lori holds a BA in Psychology from Chapman University and Certificate of Analytical Studies from CSU Sacrament. She is retired after 20 years with Placer County working in the County Executive Office. Lori is originally from the Pacific Northwest and is from the Salmon People (Walla Walla and Okanagan-Salish). Lori is a student of hula and 'olelo Hawai'i (language).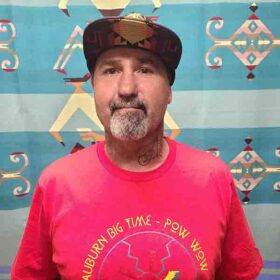 Jeremy Stephens- Board Treasurer
Jeremy is an Alumni Member of the board who represents the White Bison Community Advisory group. Jeremy is an electrician by trade and is a leader in the recovery community.
Matthew Thompson- Youth Liaison
Matthew is a Junior at Colfax High School and has been a member of the SNA Youth Leadership group for five years. Matthew is proud of his tribal heritage, a hard worker, and helps SNA as a Youth Leader to host community events.
Anno Nakai, MA- Executive Director
Anno a community health advisor who has over twenty years of experience building capacity with Native health, education and cultural organizations. With a MA from John F. Kennedy University, Anno specializes in community assessment, planning and development of health promotion programs and materials. Anno is Indigenous Saami, and enjoys traditional joiking and storytelling.
Sierra Native Alliance is recruiting new members to serve on our 5-7 person board. Potential members must be active in the Native community in the Sierra Foothills.